Eye care and Optometrist Booking System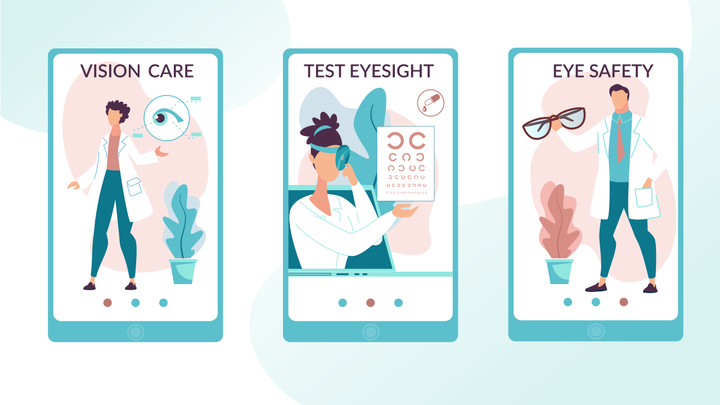 Maximize bookings for eye care and optometry businesses.
- Most simple booking system for eye care and optometrists. - Customers select available time slot, mobile number and done ! - No complex registration forms for your customers - Mobile phone accounts ( Or email accounts) - Easy to block out time-slots to public - Link booking page to your website and done - SMS or email reminders - Top grade security used in enterprise systems - Self-service enabling customers to make changes - Add post bill payments easily
You are online next day.. and its simple.

Its simply brilliant. My customers happy and I get more bookings!
3 Steps to maximize your bookings


Step 1

Choose location or people.

You can make your business location as bookable or you may choose individual optometrist or eye doctor as bookable.More info

Step 2

Create the schedule

Create a schedule easily and define your availability for each bookable entity. Its highly flexible. More info

Step 3

Add URL to your website

You can add link to specific office location or group of optometrists easily More info

3 steps for customers

Step 1: Select time slot and enter mobile number.

Step 2: Receives SMS message to confirm.

Step 3: Click and confirm. Receives reminders.

*Notification rules and channels are fully customizable. See

notification rules


Features for eyecare and optometrists


Book Time Slots

You can define time slots however you need. Schedule can be designed in many ways. You can define intervals, duration, holidays,weekends. Schedule may vary depending on the day of the week. Schedule on Mondays may be different to Saturdays.





Choose optometrists / physicians

You can make availability of individual optometrist or eye doctor online or you can show a time slot as available if any of the optometrists or eye doctors in your team is available.





Busy out time slots

We understand circumstances change and you need to quickly remove a time slot from online booking easily. Yes, you can do that easily with our unique busy out function to block time slots from availability.





No registration form

Booking should be easy. So allow your customers to book in without registration forms and credit card details.





Self-Service

Sometimes customer may not be able to make it. Instead of no show, wouldn't it be lot better if they can cancel appointments? Yes, your customers can easily cancel an appointment without calling you during your office hours.





Just mobile number!

Enter name and mobile number and booking is confirmed in real time.
This is not a request for booking, but a confirmed booking.





"Book Now" button on your website

Add the booking URL to your website and that's it ! Simple. Once you create a bookable asset, you will get a unique URL





Avoid fraudsters and bots

Your booking is in safe hands. The system has advanced security to avoid fraudsters, scammers and software bots to create unwanted bookings.





Notifications Rules

Notification rules allows you to define when, what, how and who to send a message when a booking is confirmed.





Recurring Booking

Some of your customer may need recurring booking. Perhaps eye test very year.





Pre or post payment

If you need to collect payments online, its easy. With stripe payment support, you can collect payment securely via Stripe without concerns about legal and privacy issues.





Offset and Intervals

We understand your schedule. It is not always back to back appointments. You may need intervals between appointments or you may not want someone book online and walk into to your business in 10 minutes.





Phone Booking

Not everybody wants to do online booking. Some of your customers will call your optometry or eye care business to make bookings. We understand this and support it.



Comparison and Benefits.

Alternative

BookAndPay.com

Choose any available or specific optometrist
When you have more than one optometrist or eye doctor, your customers may choose any available optometrist or eye doctor. Or they can choose a specific optometrist.
Not possible or customers have to switch between various optometrists to find out who is available.
Customers can choose 'any' option or 'select a specific' eye doctor/optometrist


Request Vs Confirmation.
Many eye care and optometrist booking page are web forms and requested time
Web-form for appointment. Not confirmed right away
Bookings are confirmed


Register&Login Vs Mobile Number
Many system require customers to register and login before making bookings. Many customers find it painful and just call or go to competitive eyecare.
Requires registration and login for booking
Enter name and mobile and confirm via SMS link. Much simpler. See details


Email Vs Mobile
Most system require email as a pre-requisite. Emails are painful to enter on smart phones. Mobile numbers are much easier and more secure.
Must provide email and other details for booking
Just mobile number. No passwords! More secure. See details


Rigid Vs Flexible Scheduling
Your schedule may change. Optometrist or eye doctors may need to make changes to their schedule to accommodate other things.
Schedules are rigid and not easy to change.
Scheduling is powerful and flexible. Supports offsets and intervals. See details


Self-service
Self-service allows customers to make changes to their bookings 24/7
Self-service not available or complex and insecure
Self-service available to all users with just mobile number and single use or one time passwords (OTP) See details


Notification templates and rules
Booking often needs various notifications. To staff, opticians/optometrists or eye doctors, your customers.
Hard wired and inflexible notifications rules and messages
Fully configurable and customizable notification templates and rules.You can decide when, what, how, who to send a message on booking.See details


Block out time-slots
Optometrists and eye doctors often needs to block out time from booking system to avoid double booking
Not possible or needs to login via PC and make changes
Very easy with unique and quick block out option enabling you to busy out slots easily and securely from any device anywhere. See details


Franchise Support
Some optometrists or eye care clinics are centrally managed by franchisor
Complex integration when there are many franchisees
Easy to create booking system for your franchisees. See details


Phone booking
If you have a contact centre or team who answers incoming phone calls, booking should be done on behalf of your customers.
Not possible or complex telephony integration
Phone booking or agent booking is integral part of solution details




FAQ on booking engine by eye doctors and optometrists.
General Questions
Schedule questions
Integration or Getting started questions
Depends. The key benefit this solution provides is to maximize bookings for you and not minor work flow improvements. More bookings means more revenue for you. To improve bookings, you need to simplify bookings for customers. Customer does not require prior registration and long forms to complete. Customer provide the name and mobile number (or email) and booking is confirmed.
If our booking system is not integrated to your practice management software, you may need to enter the entry manually into your PM.
What is more important ? Getting more bookings for your optometry or eyecare business or few minutes of extra work for manual entry in your Practice management software?
However if you need integration to your practice management software, let us know the practice management software you are using.If it supports API or database integration, we will link bookings to it.
Note: Your customer can always login using mobile number and one time password and update details such as insurance details later if required via self-service or even pay invoices
  </div>
</div>

Pricing questions
Pricing varies based on number of bookable assets and type of features you like. Typically its less than the cost of coffee every month. It is the simplest and the most cost effective way to bring more appointments with better customer satisfaction.
Contact us
and we happy to get it up and running. See
pricing details
for more details.
Notes