Payments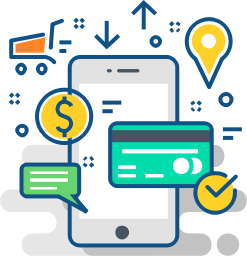 Overview
Payment may be required for few different reasons
Payment to activate assets. This typically a monthly or yearly subscription for the assets. See asset subscription
Payments you receive from your customers for booking assets. See receiving booking payments
Stripe: By default, payments are managed by Stripe. All payments are processed by Stripe unless the system is configured with a customized payment service provider or gateway. Generally payments from your customers goes to your nominated stripe account after deducting any stripe fees and our application fees.
Asset Payment
Before an asset can be enabled for booking, it needs to be activated. Typically this is done via asset subscription. Assets will be in active state if the subscription is active.
Booking Payment
This section assumes you need payment before you confirm bookings.
Payment is optional: Receiving payments via bookandpay.com is optional and booking for some business assets may not require payment. Payment may be processed external to the booking system for various reasons. If payment is not required, then you should set the asset attribute booking_confirmation_type correctly.
If you need to receive payments for booking before confirming, there are few steps required.
Contact us first. Payments are not enabled for every country. Some basic administrative steps are required before we enable you to process the payments via bookandpay.com. This is for security reasons. Once we enable payments, you will receive an email with instructions on how to proceed. See notes on stripe
Once the payment is setup in Stripe, you need to decide how much your customer need to pay for booking. You need to do this for all the assets which need payment for confirmation. See booking cost.
Set the asset attribute booking_confirmation_type to payment_confirmation_prepay. You need to do this for all the assets which need payment for confirmation.
Postpay: BookAndPay supports postpay. Postpay allows you to confirm the booking without receiving the payment upfront. Postpay is required for some asset booking and will help in integration with accounting or financial systems. If you need postpay, please contact us
Booking Cost
The cost of booking your asset may be fixed or variable. For example the cost may be $15/hour irrespective of the time of the day or day of the week. Or it may be higher after certain time or during weekends.
Fixed cost
Fixed cost is used when booking cost is fixed. Booking cost is set in the Pricing section of the asset. Booking cost or pricing should be set for each asset.
Select Pricing from the asset list and update the price.

Variable cost
Variable cost allows you to vary the pricing based on time, day or month.
Version specific: Variable cost type support varies based on the version you are using
hour_of_the_day
price vary based on the hour of the day
E.g.
7AM to 10AM : $4  
10AM to 5PM : $5

day_of_the_week
price vary based on the day of the week
E.g.
Mon to Fri : $10
Sat to Sun : $12

time_of_the_week
price vary based on the time of the week
E.g.
Mon 3pm to Mon 7pm : $25
Rest of the time: $15

date_of_the_month
price vary based on the date of the month
E.g.
Jan 1 - Mar22 : $20
Mar 23 - Nov1 : $25
Nov 2 - Dec 31: $30


month_of_the_year
price vary based on the month of the year.
E.g.
Jan - Apr : $22
May - Dec : $25